This deck is based on Nosferatu princes and justicares (which are cheap in terms of capacity). The classic version of the deck plays with groups 1 and 2 (Nikolaus, Calebros, Selma, Sheldon and even Murat) although the version of groups 2-3 can also be seen by the tables (how good is Cock Robin!).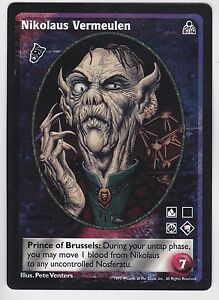 This deck follows a somewhat particular dynamic due to its peculiarities. This is a deck based on traditions and policies. The strong point is obfuscation, which allows you to pass over most intercept decks without disheveled. As a main weakness it is quite blind to bleed (it only has second traditions) and none of its disciplines can deflect. Of course we could add intercept of animalism, but the deck is not about that. Another problem is that we have to pass the voting only with the votes of our vampires (we can help ourselves with the animal magnetism and the legendary vampire for that).
In general we will be interested in taking out many vampires (and surviving on the road!). Nikolaus's special ability comes to us luxury and that is why the first one should be taken out. Then we can use the fourth tradition to accelerate that. If we are doing well, we may be able to play parity to our prey in order to continue influencing. Fifth tradition to fill us. For everything else, KRCard.
With regard to combat, there are decks that play with a lot of POT and / or ANI and others that prefer to forget that to specialize in their own. (If we are not going to play combat, we can play third traditions to block possible visits that we want to make).
Here is the Nosferatu Royalty list:
Crypt: (12 cards, Min: 24, Max: 39, Avg: 7,75)
 2  Calebros                           obf pot ANI    5  Nosferatu
   2  Casino Reeds                       cel dem ANI OBF POT9  Nosferatu
   3  Cock Robin                         aus for ANI OBF POT10 Nosferatu
   2  Murat                              ser OBF POT    7  Nosferatu
   3  Nikolaus Vermeulen                 ani for obf POT7  Nosferatu
 Library: (75 cards)
 Master (16 cards)
   1  Barrens, The
   1  Dreams of the Sphinx
   1  Giant's Blood
   1  Labyrinth, The
   3  Legendary Vampire
   1  Monastery of Shadows
   1  Pentex(TM) Subversion
   1  Warsaw Station
   6  Zillah's Valley
 Action (7 cards)
   4  Deep Song
   1  SchreckNET
   2  Tier of Souls
 Action Modifier (23 cards)
   4  Elder Impersonation
   3  Faceless Night
   3  Forgotten Labyrinth
   7  Freak Drive
   6  Lost in Crowds
 Political Action (13 cards)
   2  Conservative Agitation
   4  Kine Resources Contested
   7  Parity Shift
 Reaction (1 cards)
   1  Lost in Translation
 Combat (9 cards)
   3  Carrion Crows
   3  Terror Frenzy
   3  Thrown Gate
 Retainer (2 cards)
   1  J. S. Simmons, Esq.
   1  Tasha Morgan
 Event (1 cards)
   1  Bitter and Sweet Story, The
 Combo (3 cards)
   3  Swallowed by the Night
Tomorrow we will continue with the deck of Khazar's Diary!