The Weenie Auspex archetype has many variations, but it usually comes down to bringing in vampires of low ability who have Auspex's discipline, preferably the superior.
El mazo is all about stopping actions. The best strategy for playing this kind of decks is to defend yourself and try to get it into the three-player phase beforehand. You have to dedicate the early phase of the game to getting ready to control the table without pending a few turns later. The use of permanent cards gives this deck a lot ofrobustness (bowl, radios, rack / Montreal, some sniper and some camera phone).
It is easy for us to give ourselves the chance to stop everything that moves around our surroundings (this would be a novice error). Remember: we have to stop the actions of our predator and prey and solo if we are quite Ok and some prey's vampire can be shot, we stop to punish him/her hard.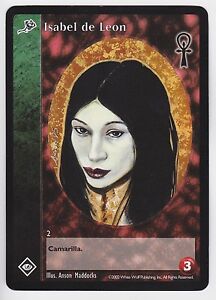 The main cards that can be seen in these are quite obvious: Eyes of Argus, Eagle Sight, Enhanced Senses, Onthequis and Forced Awakening. Telepathic Misdirection, My Enemy's and some delaying us to help surviving.
The key in this deck resides in how we survived the fight. I believe that here there are the same options as valid (its decanting by the first, but I have shown that the second is equal to effective). Heidelberg is a very good card if we decided to decant ourselves for the combat option.
The first option we have to decide about wich of the following fighting styles we will like: .44magnum, sniper rifle, walking stick, target vitals, Saturday with dragon breath… any combination of these cards. The second option is to be mindful of combat and be aware that we will have to devote several of our actions to dropping / rescuing us from torpor. Akin to what we have been losing, and that gives us a good song of free slotes for other things in our deck.
Here I have an auspex weenie that works well for me:
Crypt: (12 cards, Min: 10, Max: 20, Avg: 3,66)
 1  Colonel                            cel dem obf AUS5  Malkavian Antitribu
   1  Elizabeth Westcott                 ani cel vic AUS5  Tzimisce
   1  Franciscus                         aus            1  Caitiff
   1  Gengis                             aus cel pot    3  Brujah
   1  Gengis (ADV)                       aus cel pot    3  Brujah
   1  Isabel de Leon                     AUS            3  Toreador
   1  Kisha Bhimji                       cel obf pot AUS5  Osebo
   1  Martin Franckel                    tha AUS        3  Tremere
   1  Mercy                              cel dom pre AUS5  Toreador Antitribu
   1  Victoria                           cel obf AUS    5  Malkavian
   1  Yvette                             aus cel        3  Toreador
   1  Zoe                                cel obf AUS    3  Malkavian
 Library: (80 cards)
 Master (18 cards)
   1  Channel 10
   2  Fame
   1  Heidelberg Castle, Germany
   1  KRCG News Radio
   2  Millicent Smith, Puritan Vampire Hunter
   2  Pentex(TM) Subversion
   1  Powerbase: Montreal
   1  Rack, The
   2  Smiling Jack, The Anarch
   4  Vessel
   1  WMRH Talk Radio
 Action (1 cards)
   1  Aranthebes, The Immortal
 Reaction (37 cards)
   2  Delaying Tactics
   7  Eagle's Sight
   10 Eyes of Argus
   4  Forced Awakening
   5  My Enemy's Enemy
   3  On the Qui Vive
   3  Precognition
   3  Telepathic Misdirection
 Combat (12 cards)
   4  Concealed Weapon
   8  Target Vitals
 Ally (3 cards)
   1  Carlton Van Wyk
   1  Neighborhood Watch Commander
   1  Ossian
 Retainer (1 cards)
   1  Tasha Morgan
 Equipment (7 cards)
   1  .44 Magnum
   1  Bowl of Convergence
   2  Camera Phone
   3  Sniper Rifle
 Event (1 cards)
   1  NRA PAC
Remember the first I have pointed about this archetype, there are some variations that work to the smallest extent (anarchic version, malkavian version with NRA and madness network, midcap version with pipas and celerity, version of princes…)
Tomorrow I'll talk about the Toreador Grand Ball deck.