Hoy os hablaré del mazo bloquer de Goratrix.
Si por casualidad estáis sentados jugando una pachanguilla y la curiosidad os ha traído hasta aquí al ver a Goratrix delante o detrás vuestro… coged aire y pedid algo de beber, que la cosa va para largo.
Esta baraja se caracteriza por ser enfermizamente sólida una vez ha superado la fase inicial de la partida. La habilidad especial de Goratrix (roba 2R de sangre por strike) hace que este mazo pueda prescindir de la mayoría de cartas de combate y que pueda seguir pagando las cartas con coste de sangre (sobretodo Rego Motus y Deflection).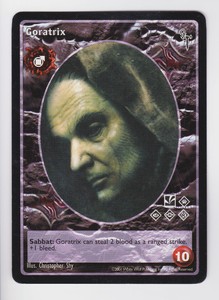 La compañera habitual de Goratrix "el cansino" suele ser Omaya, "la pesada". Omaya tiene el AUSpex y el ANImalismo que usaremos para bloquear hasta el infinito y se previene uno de daño por combate.
Lo habitual en esta baraja es jugar a desgastar al resto de la mesa interceptando todo lo que de pool/sangre/poder. El abanico de intercept del mazo es el mejor del juego (Sense the savage way, Eyes of Argus, Read the winds, The Mole, etc…). Podéis esperar al menos entre 30-40 wakes en la baraja.
Las otras cartas clave del mazo son bastante evidentes (Govern, Conditioning, Deflection, Rego Motus…), acompañados de Enkil Cog, Army of Rats, MAgic of the Smith para equiparse con la clásica Ruins of Ceoris que tanto le gusta a Goratrix, Guardian Angels y algun Carrion – Canine Horde. Smiling Jack para arreglar el dia.
Una estrátegia que suele acompañar bien a esta baraja es el anarquismo, que nos da entrada al Constant Revolution, los The Mole y los mortíferos Anarch Revolt.
Aqui os dejo mi lista de Goratrix:
 Crypt: (12 cards, Min: 4, Max: 40, Avg: 5,91)
 4  Anarch Convert                     -none-         1  Caitiff
   1  Anastasz di Zagreb                 ani cel dom AUS THA8  Tremere
   1  Devin Bisley                       vic ANI AUS    5  Tzimisce
   4  Goratrix                           vic ANI AUS DOM THA10 Tremere Antitribu
   2  Omaya                              pro ANI AUS FOR7  Gangrel Antitribu
 Library: (90 cards)
 Master (20 cards)
   5  Anarch Revolt
   1  Bleeding the Vine
   1  Dreams of the Sphinx
   1  Erciyes Fragments, The
   1  Giant's Blood
   2  Guardian Angel
   2  Pentex(TM) Subversion
   1  Powerbase: Los Angeles
   1  Powerbase: Montreal
   1  Rack, The
   1  Smiling Jack, The Anarch
   3  Vessel
 Action (7 cards)
   1  Army of Rats
   1  Constant Revolution
   4  Magic of the Smith
   1  Rutor's Hand
 Action Modifier (1 cards)
   1  Enkil Cog
 Reaction (46 cards)
   6  Cats' Guidance
   6  Eagle's Sight
   2  Enhanced Senses
   8  Eyes of Argus
   5  Mole, The
   3  My Enemy's Enemy
   2  On the Qui Vive
   8  Sense the Savage Way
   6  Telepathic Misdirection
 Combat (10 cards)
   2  Canine Horde
   5  Carrion Crows
   3  Rego Motus
 Ally (1 cards)
   1  Mylan Horseed
 Equipment (5 cards)
   1  Bowl of Convergence
   1  Heart of Nizchetus
   1  Ivory Bow
   1  Kevlar Vest
   1  Ruins of Ceoris
 
Mañana seguiremos con uno de mis mazos preferidos: El mazo de Enkidu Superstar!